For Sandman Jazz's 30-day book challenge, here are my answers for Days 22, 23, and 24.
Day 22: An LGBTQ love story: Two excellent novels are Song of Achilles by Madeline Miller and The Great Believers by Rebecca Makkai.
I read The Great Believers last spring. The story moves back and forth between the 1980s AIDS epidemic in Chicago and 30 years later in Paris. The protagonist, Yale Tishman, the development director for an art gallery, has witnessed friends dying from AIDS, including his partner, Nico. His circle of friends continues to narrow until all he has left is Nico's sister Fiona. Meanwhile, we find Fiona in Paris looking for her daughter, whom she suspects has joined a cult. It is a different kind of love story, and very sad in parts, but I loved the book.

Song of Achilles was written by the same author, Madeline Miller, as Circe, which I chose for Day 17. The novel is set in ancient Greece and based on Greek mythology and sagas, such as The Odyssey and The Iliad. Achilles is the "golden boy" whose destiny is to fight in the Trojan War. Before that, however, the author takes us through how he matures into adulthood with his constant companion, Patroclus, whose only claim to fame is his friend Achilles. The story is about how and why Achilles and Patroclus ended up at a battlefield near Troy, centering on the love affair between Achilles and Patroclus. I highly recommend this book!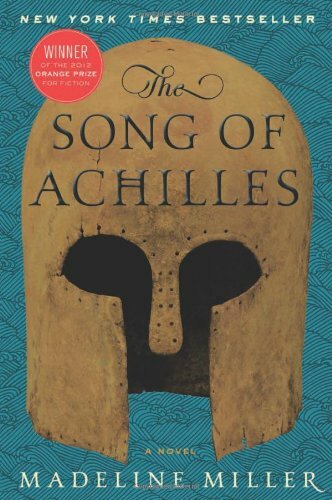 Day 23: A book quote you know by heart: Because of my ADHD brain, my ability to memorize a quote of any kind is shaky at best. So my memorized quotes are short. But I saw the Franco Zeffirelli movie version of Romeo and Juliet eight times! This is from that famous love tragedy by William Shakespeare and just about everyone knows it: Juliet is on her balcony, remembering the young Romeo who has captured her heart: "A rose by any other name would smell as sweet, so Romeo would…" Romeo meanwhile has heard this and makes his appearance known. After professing their love for each other, Juliet finally says good night: "Parting is such sweet sorrow, that I shall say good night until it be morrow."
Day 24: A book collaboration by two or more authors: A Very Stable Genius by Philip Rucker and Carol Leonnig. The title is ironic – using an exact quote by Donald Trump about himself, the book is a factual account of the first 30 months of the Trump administration.