Fandango has a special challenge for the month of August called Fandango's Dog Days of August. Every day this month, he posts a theme to get our creative juices flowing! Today's topic is "favorite food." I know I've written about this before, but I don't think I've had the opportunity to really extrapolate about my favorite food, which is…
ice cream!
My favorite food is ice cream. It's part of why summer is my favorite season. I actually have more than one favorite food – I could name a favorite in each food category but right now I'm staying with ice cream.
My favorite flavor of ice cream is peppermint. The problem (if you can call it that!) is that peppermint is often associated with Christmas, so it's sometimes hard to find peppermint ice cream in the summer. I sometimes eat ice cream in the winter, but not very often. Ideally, the peppermint ice cream should have hot fudge sauce on top. Skip the cherry and whipped cream, just hot fudge sauce please! And then, if available, I like to put some kind of embellishment on top, such as sprinkles, m&m's, little bits of brownie – in fact, if the ice cream is ON TOP of a brownie, that's even better! Because next to ice cream, brownies are my favorite dessert!

We used to have a restaurant in our area, called Baker's Square, that specialized in pie.
But on their menu, they had brownie with ice cream on top listed in their dessert menu. So I would ask for that – I didn't really expect peppermint ice cream, vanilla was okay – and would ask for fudge sauce on top if possible. When the waitress brought it to the table, it was really yummy because the brownie was WARM, as if it had just come out of the oven! Too bad they closed their restaurants around here, because nowhere else serves brownie with ice cream on top quite the way they did.
But I digress…back to ice cream!  While I do prefer peppermint, I like a lot of other flavors, too – chocolate, coffee, fudge swirl, mint with chocolate chips, you name it. One thing I do NOT like in ice cream is peanuts or peanut butter! I hate peanuts and I don't like peanut butter used as a sweet – save it for peanut butter and jelly sandwiches!
I also find sorbet very refreshing in the summer, as well as frozen yogurt. These are usually considered "healthier" options – less calories, anyway – than regular ice cream. Anyway, I lump all three together as "ice cream" when referring to my favorite food.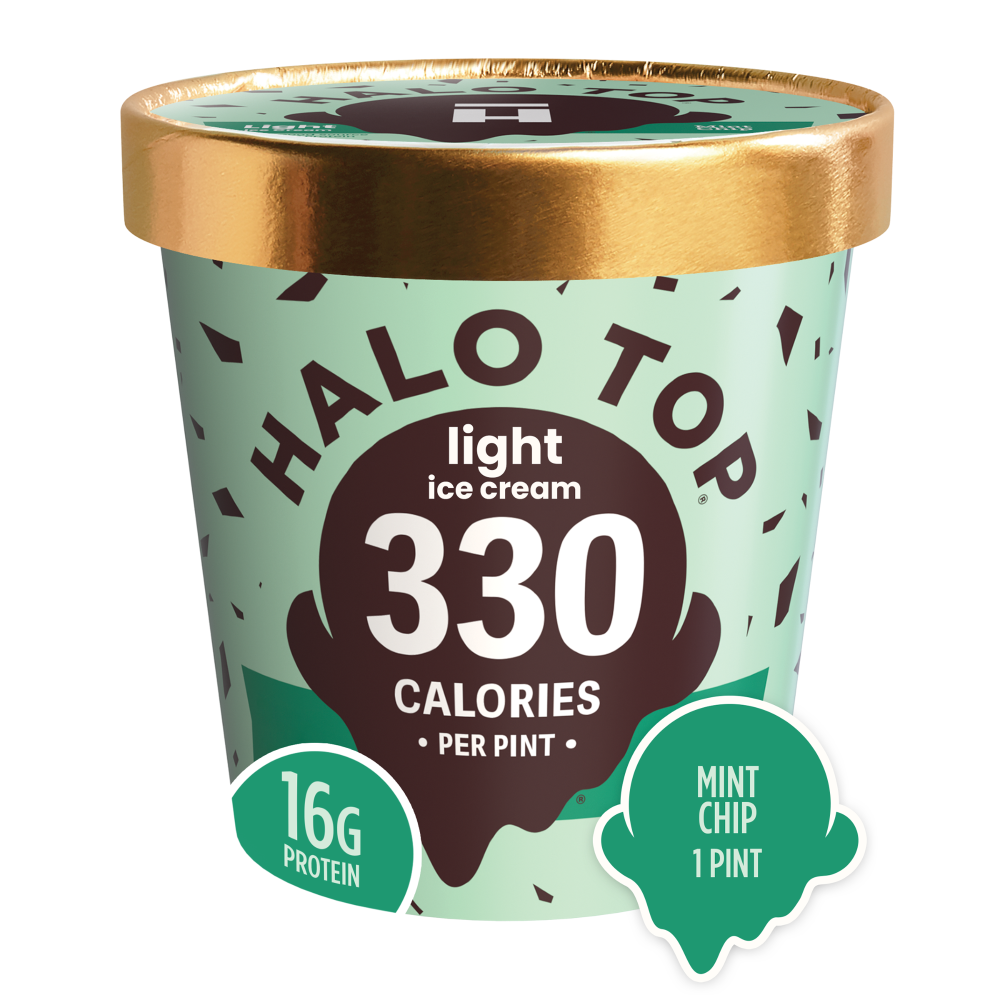 There is a relatively new brand of ice cream called Halo Top, which is sold in pints with the number of calories shown on the side in large numerals. So if it says "360" (but some are lower than that), that's 360 calories for the entire pint! Of course, I never eat it all at once so I know the calories aren't too high. Admittedly, Halo Top is not as good as Ben & Jerry's, but that's something I have sometimes been willing to sacrifice in order to "have my ice cream and eat it too!"
Here at our senior community, when we were eating in the dining room, ice cream was always one of the dessert options, and they often had several flavors. When the waiter would come by to tell us about the desserts, all conversation ceased as we listened to the ice cream flavor choices! Occasionally they would have one of two very popular options – Roadrunner Raspberry or Peppermint Bark Moose Tracks (the moose tracks being chunks of chocolate mixed in). I don't know how prevalent this last flavor would be in the summer – we moved here in the middle of August last year, so my 6 months of eating in the dining room (until the pandemic hit and we had to lock down) hasn't been enough to know if peppermint bark moose tracks is strictly a winter flavor. Anyway, ice cream is rarely a choice of dessert now that our food is being delivered to our house, and when it is offered, it's always vanilla.
Raspberry Roadrunner (it's made by Hershey's) is also a delicious flavor and I wish I had real hot fudge sauce to put on it. Sometimes it's available for purchase at our Mini Mart, which is still open on weekdays.
The best hot fudge sauce was made at a place that had a restaurant, bar, sweet shop and boat dock, called Bosacki's, in Minocqua, Wisconsin.
We had a cottage about five miles from there and I worked there one summer (in the kitchen), so their fudge and hot fudge sauce was a real treat – they would give you the ice cream in a bowl and serve it with a tiny pitcher of freshly-made hot fudge sauce! It was their "secret recipe" – also used in making their delicious fudge – so when they went out of business, that flavor experience was lost to me forever! However, one of the Bosacki siblings, Cathy, opened her own sweet shop where she sold the famous fudge, as well as jars of fudge sauce, but since we sold our cottage, I never go up there anymore.
But again, back to ice cream! Ice cream is a wonderful treat to have when we are traveling, because other countries have different flavors and after an exhausting day of sightseeing, it's just the thing to recharge my energy!
In 2010, Dale and I went to Spain for a month under a study abroad program run by a local community college. We spent the mornings in Spanish classes and in the afternoon, we either had group sightseeing trips, or we explored on our own. We stayed at a dorm near downtown Madrid, so we walked everywhere. It didn't seem like a long walk to the Prado and Reina Sofia art museums, for example, and en route we would cross plazas surrounded by colonial buildings and traverse narrow alleys, so there was always something to see. Being summer, the temperature in Madrid was always hot so people didn't go out in the middle of the day – that's siesta time, so we usually would wait until mid afternoon to go exploring. To this day, if I were to go to Madrid, I would know exactly how to find the gelato place on the Gran Via! After walking around for hours, we'd be on our way back to the dorm and at some point I would be so exhausted, I couldn't go a step further…and what do you know, that point was at the gelatería! After a soothing, cool ice cream sundae sitting outside under an umbrella, my energy would return and I could make it back home! (By the way, Madrid also has some excellent chocolaterías, where you get hot liquid chocolate to dip churros in, which are kind of like an elongated doughnut.)
I scream, you scream, we all scream for ice cream! That's what we used to say as kids in my family, and in late spring, we would begin hearing the tinkling of the ice cream truck as it meandered the residential streets of our neighborhood. Occasionally Mom or Dad would give us a quarter or fifty cents to buy something from the ice cream truck – what a treat! That incessant tinkling melody always takes me back to summertime in Janesville, Wisconsin. This is the one we always heard then:
But when I lived in Des Plaines, we would usually hear this one:
Here's another saying: Whenever we were begging for a favor, we'd embellish our "please:"

Pretty please?
Pretty please with sugar on top? Which I changed to –
Pretty please with ice cream on top?
Pretty please with ice cream and chocolate sauce on top?
Pretty please with a hot fudge sundae covered with sprinkles and whipped cream?
Pretty please with a hot fudge sundae with sprinkles, whipped cream, and a cherry?
…and so on.
Well, I'd better end this because I just remembered that I have a pint of Ben & Jerry's Boom chocalatta! cookie core ice cream in the freezer! *Smack!* OHHHH, so good!