A new week has arrived and along with it, a new set of questions from Melanie on Share Your World. QUESTIONS:
Do you feel you ask enough questions or do you settle for what you know?
I like to ask questions. I am very inquisitive and I often go in search of information for answers. If I didn't ask questions, what would I know? Questioning is vital to gain knowledge. This is why little children ask so many questions, Why this and why that? They have little knowledge and to get more, they have to ask why, although sometimes the adults don't have answers.
That said, there are certain situations in which I do stop asking questions. If a very annoying person is chatting me up, for example, on an airplane or a bus, and I don't want to talk to that person, I say what is polite and then turn away. Or when a meeting goes really long, and everyone is fidgeting because they want to get out of there, but I still have a question, I most likely bite my tongue and settle for what I know, with the thought of finding out the answer to my unasked question later or elsewhere.
Asking questions occasionally gets me into trouble; in fact, I lost a teaching job at least partly due to asking a question that my boss (the new principal of the school) didn't like, because she thought it made her look bad.. She harbored a resentment toward me the entire school year and found fault with me even when I wasn't doing anything wrong. She ended up not rehiring me and I wasn't tenured. But I really did want to know the answer to my question and never really got one.
When did you fail to speak up when you feel you should have?
There was one incident that I still regret not having spoken up – or perhaps if I had realized sooner to put two and two together. I went to a party at a former coworker's house one summer. When I got there, I was happy to see several of my former coworkers from the school I had loved teaching at, including the principal who I really liked because she had always been supportive of me. I had lost my job in that school district, because they reconfigured the schools into "grade level centers" and by moving people around, they could dispense with nine teachers. I was one of them because after three years, I wasn't yet tenured. In Illinois teachers don't get tenure until the end of their fourth year. I was telling the principal about my new job and how happy I was there, even though the pay was extremely low – I'd had to take a program assistant job, because I couldn't find a teaching position except for substitute teaching, which I was tired of. The principal asked me several times if I was sure I really liked it where I was working, and I kept saying yes.
A short while later, I ran into the other ESL teacher I had worked with at that school and found out she had just retired. I didn't make any connection at the time and it wasn't until a day or so later that my dense mind figured it out! The principal had been trying to find out if I would be interested in going back to my former position, but I didn't realize that at the time. She wanted me to replace the retiring teacher because they really needed a Spanish-speaking ESL teacher, which they lost when I was cut from the district. They had replaced me with another ESL teacher from another school in the district who was tenured.
I realized I should have said something – although I liked the program assistant job, the pay was so low that Dale and I were having trouble keeping a positive balance in our checking account, and if I could have gotten a teaching job in my former district, where I was really happy, I would have taken it. I thought about calling that principal and asking her if the job was still available, but I didn't. I had convinced myself by that time that in spite of the low pay, I was glad not to have the responsibility of a teaching job. I could go home after work and not have to do more work at home to prepare for the next day or grade papers. I valued that additional leisure time. Even so, I know I would have taken that ESL position back if it had been offered to me and worked for several more years instead of retiring at age 63, when I acquired an inheritance after my mother died.
When was the last time you felt lucky?
A few days ago! Maybe "lucky" isn't the right word. People have no control over what family circumstances they will be born into. I happened to be lucky to be born into a psychologically and financially stable family. The reason I felt lucky a few days ago is that, when hearing the news of the pandemic, of people who have lost their jobs and depend on the stimulus checks for their financial support right now, for people who have no money, I thought about how lucky I am – a retired, 68-year-old married white woman with a good husband and a wonderful home in a senior community (which most people would be hard pressed to afford). This community provides us with a lot of support during the pandemic and our monthly fee pays for maintenance, snow shoveling, etc. We've gotten ahead of others in getting the Covid vaccine, we have a housekeeper who comes once a week, and we don't have to cook because our meals are delivered to us. We have a beautiful campus where we can walk and see our neighbors (when the weather is good), so we don't feel so isolated. I thank God every day for my good fortune.
What is a boulder?
It is a large rock. When people talk about avalanches, they usually call the rocks that hurtle down the side of a mountain boulders. Boulder is also a city in Colorado, home of the University of Colorado.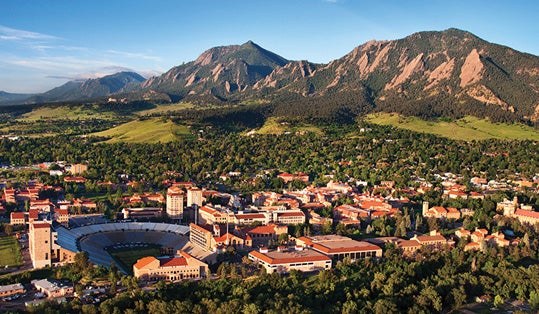 ---
GRATITUDE SECTION (as always optional)
Feel free to share your gratitude with everyone! See the answer about feeling lucky above. I am grateful for all I have. While people in Texas are suffering from lack of electricity and water during a freak storm, I am watching their distress on TV in my comfortable home. I am warm and don't lack for anything. The employees of our community take good care of us.